Why Noosa is now the strongest property market in Queensland
Domain | 10 September 2018
Noosa is on track to take out the title of Queensland's best performing property market for 2018, as new figures reveal it has delivered the strongest growth in the state over the past 12 months.
Noosa's growth eclipsed that of both the Gold Coast and Brisbane, according to data from the Real Estate Institute of Queensland, making it Queensland's most prestigious property market.
Home to the Sunshine Coast's rich and famous, Noosa has long been sought after for its pristine beaches, heritage-listed rainforests and low density, boutique lifestyle.
But in the 12 months leading up to June, demand in the area reached new heights – the median house price grew 6.9 per cent to $695,000 and units by an impressive 10.2 per cent to $540,000.
It has been a heady year for the Noosa region – earlier this year a $22 million Sunshine Beach trophy home made headlines when it set a new record for the Sunshine Coast.
By rights, as one the biggest real estate deals in Queensland in recent years, the house at 21-23 Webb Road — a seven-bedroom, eight- bathroom beachfront estate — should have been a jaw-dropping, albeit rare, headline-stealer.
But Noosa was already up in lights. Less than two weeks earlier, Pat Rafter's $18 million beachfront mansion had gone under contract.
REIQ chief executive Antonia Mercorella said Noosa had all the ingredients for price growth.
"This is a highly desirable part of the world, with stunning natural features, world-class beaches, beautiful climate year-round, outstanding shopping and dining precincts, and, crucially, exclusivity," she said.
"There is limited housing supply being added to Noosa and competition is obviously driving price growth.
"Looking forward, once the Bruce Highway upgrades are completed and commuting to Brisbane becomes more feasible, it's likely we'll see added demand for Sunshine Coast living.
"This area would benefit from greater supply levels, undoubtedly."
Local prestige agent Adrian Reed of Reed & Co Estate Agents said Noosa's success was not simply the result of cashed-up Sydney buyers.
Instead, he said, the region's infrastructure boom was driving a shift in demographic of Sunshine Coast buyers.
"Billions of dollars have been invested, including transport, tourism and medical sector … the stimulus for growth on the back of these projects is reshaping the traditional buyer profiles," he said.
Mr Reed brokered a record-breaking deal for a Noosa North Shore house last year that made headlines around the country for being Australia's most unique beachfront estate.
The house was snapped up by a mystery buyer in a deal worth more than $10 million and Mr Reed said the momentum of the market had shown no signs of slowing down since then.
"I've just listed another incredible Noosa North Shore property at 2 Frying Pan Track and the interest has been very positive with buyers from interstate and internationally," he said.
"Access to international travel and upgrades to digital infrastructure is enabling younger wealthy industry leaders and expats to buy in Noosa with confidence.
"This has already had a positive knock on effect to the luxury property market in Noosa.
"When you couple this with traditional upward pressure from baby boomers capitalised from southern markets making a lifestyle transition, it's creating great selling conditions for Spring."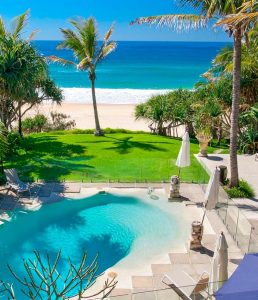 The rest of the Sunshine Coast region delivered similarly strong results for the year to June 2018.
Overall, the Sunshine Coast local government area grew 6.5 per cent to a median house price of $575,000.
Previous frontrunner the Gold Coast continued its trajectory of strong growth, with the median house price increasing 4.5 per cent to $622,031.
"This is not a completely unexpected result in the post-Games period as we see normal activity resume," Ms Mercorella said.
The Gold Coast is the biggest apartment market in Queensland, selling more than 10,000 units in the 12 months to June 2018.
It was also one of the few unit markets in Queensland to deliver positive growth, adding a slender 0.9 per cent to values to a median of $429,000.
Published By – Domain