Financial Year 2021 – 2022 in Review
While the end of a financial year is a chance to look back on the past 12 months, it is also an opportunity to predict what the next period holds for the Noosa property market.
Amid an unusual year, Reed & Co. managed to deliver our highest volume of sales ever, marking our most successful year as a business. We worked hard to maintain connections between buyers and sellers in a time that threw curveballs at every turn. A total of 95 properties changed hands for more than $236,000,000 in sales. It is clear now that the peak energy in our core markets was Spring of 2021 where we experienced the combined effects of the highest price and volume. Since then, we have seen a slight disconnect between seller expectations and buyer enthusiasm which resulted in a significant decline in the volume of sales. The first half of 2022 brought clarity and confirmation that the market was in for some change. While questions remain about what is next, there are clear themes now driving momentum.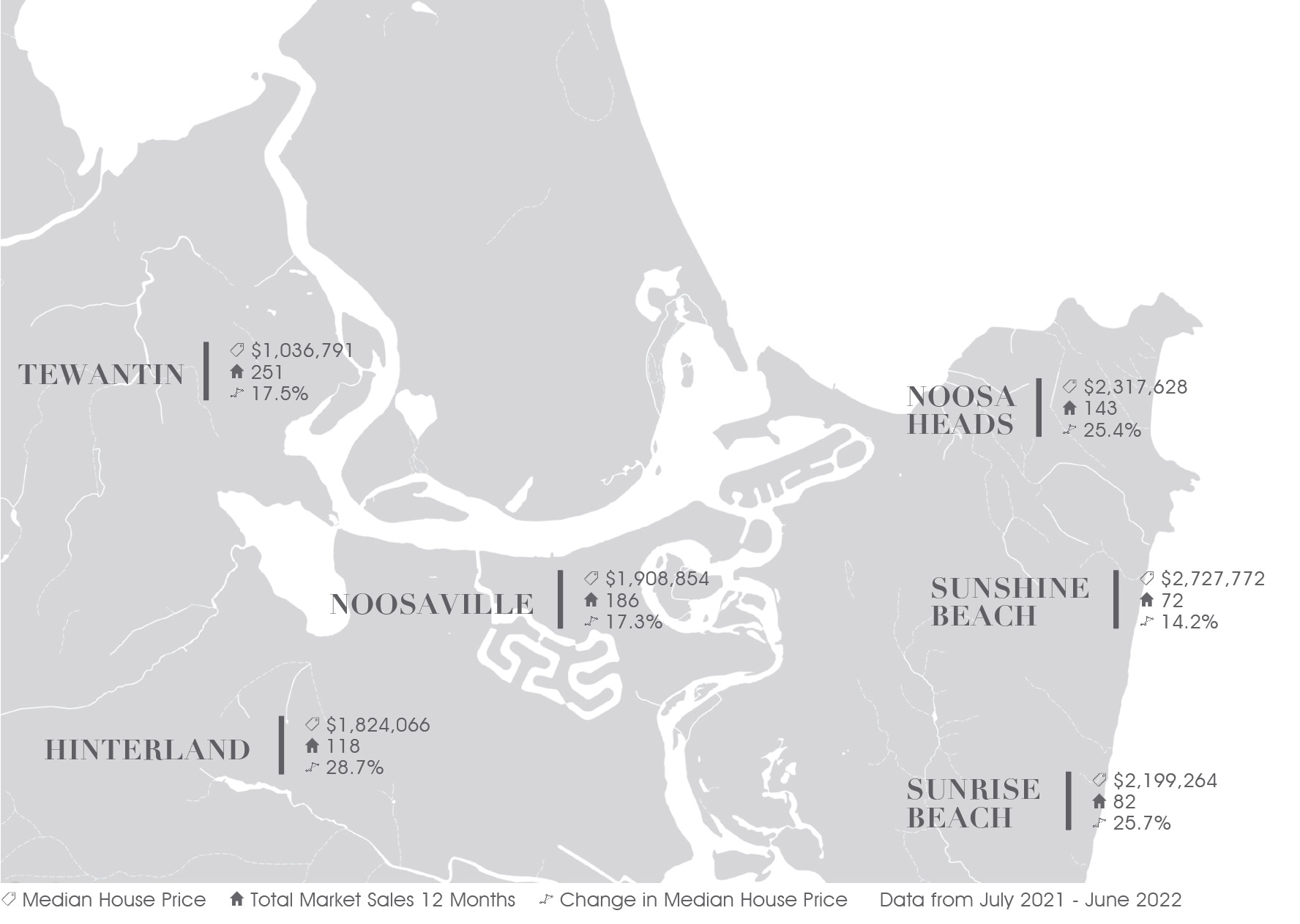 In our core Noosa markets, current stock levels remain reduced to an extent that our clearance rates at auction remain high as almost all of the properties that we take to auction are selling under the hammer or soon after auction. At the moment wherever we are seeing reduced urgency from buyers, we are also seeing fewer homes on the market, that counterbalance is sustaining price levels. This could be a different environment if stock levels shot up along with less competition from buyers.
We're predicting that this low stock level market condition will continue into September, when sellers that have been planning to make a move launch into spring campaigns.mOur tactical marketing campaigns are still driving foot traffic to Reed & Co. homes, continually getting over 20 buyers through properties on launch weekends, on par with what we see in periods of higher demand. In particular, new or completely renovated homes are peaking the interest of the market. With the increased costs of building and renovating buyers are appreciating the value of high-quality construction and homes that are on trend.
Preparation and presentation have never been more important to ensure that your property is standing out. Noosa's market has matured beautifully, itís grown from being a relatively volatile market 10 to 15 years ago, to a highly desirable lifestyle market with a strong base of permanent residents underpinning growth. The underlying drivers that have been supporting a buoyant market over that last 5 years have been tree-changers and sea-changers, positive migration, and holiday home buyers. Since the pandemic, we now have to add in financially capable families moving away from densely populated urban areas to the mix. Couple that with prestige holiday home buyers and you have one of the strongest and most resilient markets in the country.
For the Financial Year, the wider figures tell us that Noosa Regional house prices finished up 22.8% (Core Logic), despite rising interest rates, an election and generally cooling market conditions. The bulk of the growth and momentum was felt through the first half of the year, that is now being offset by some more recent month's showing accelerating decline. We can see that the median house price in Noosa Heads grew by 25.8%, while neighbouring Sunshine Beach, which shares the Noosa Heads postcode, increased by 14.2%. Noosaville, which includes Noosa Waters, has also experienced very strong performance jumping 17.3%. The median price for a house in Noosa Heads is now $2,310,000, while Sunshine Beach is at a staggering $2,730,000, Noosaville is close behind at $1,910,000.
2022 also saw the welcome return of our Charity Gala Dinner in collaboration with the Loyal and Humpty Dumpty Foundations. We have now along with our generous community raised over $649,000 purchasing over 60 pieces of urgently needed lifesaving paediatric medical equipment for our local Noosa and regional hospitals in Queensland.